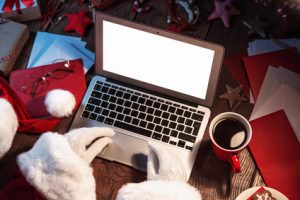 A few days ago, I shared with you a few tips and strategies on how you can advance your career with Twitter. Although Twitter is my favorite social media platform, I get it. Twitter may not be your favorite platform.  Instead of improving your Twitter engagement this holiday season, you can focus on gaining new connections and visibility on LinkedIn.
LinkedIn was founded in December 2002 and officially launched in May 2003. The platform is very popular in the professional sector with a focus on business and employment.  It is a great place to be for professional networking.  Not convinced yet? Let's look at the numbers.
Josh Gallant wrote an article for Foundation, Inc, "45 Eye-Opening LinkedIn Statistics For B2B Marketers In 2018", which analyzes current statistics for LinkedIn.  Currently, there are approximately 500 million accounts on LinkedIn. LinkedIn CEO, Jeff Weiner has plans to grow that number to 3 billion. Yes, the goal is to have 3 billion users worldwide.
Of the 500 million current members, only 250 million log into their account monthly. Of the 250 million that log on monthly, only 3 million share content on a weekly basis. There are 9 billion impressions (posts) in the LinkedIn feed each week. In case you missed it, I'll make it very clear.  There are 3 million users whose posts are seen 9 billion times.  If you are posting, there is a very good chance your posts will be seen.
So what can you do to get noticed on LinkedIn?  Consider these five things.
Update your photo.
If you haven't updated your photo in a while, now is the perfect time to do so.  Take a professional picture that depicts your personal and professional brand.  You do not have to hire a professional photographer to take the photo.  However, you do not want to take the picture in your bathroom or hanging out in a club.  Remember, LinkedIn is a professional platform. The photo you used on your personal Facebook or Twitter page may not work here.
Update and complete your profile.
Take time to review the information on your profile.  Is it current?  Has the company you work for changed?  You may have earned additional degrees or certificates. Including this information can help employers, customers or potential business partners find you. Also, see if you left any of the areas blank and need to fill them in.
Share valuable content.
I mentioned above how only a small portion of the members are posting information on LinkedIn on a weekly basis. If you post just once or twice a week, you will instantly gain more visibility.  Not sure what to share? You can share a video, photo, article or idea centered around your career field or industry. Include a few comments or your thoughts pertaining to the issue.  Don't be concerned if no one likes your comment or posts right away. Remember, you are one of the few users whose post now appear in the feed.
Like and Comment.
I am a strong believer in reciprocal engagement.  If you want people to like and comment on your post, you need to do the same. Look at your news feed and find one or two posts you can like and/or comment on.  The comments don't have to belong. In some cases, one sentence will do.  Others will see your comment and possibly engage with you by commenting some more or sending you a connection request. They will begin to notice you as an active member on the platform.
Write an article.  
This may seem to be the most challenging one of all recommended strategies here, but it can be the most effective.  Your article can be created right on the LinkedIn platform and shared on Facebook, Twitter, etc. Those you are connected with will see your article and be encouraged to engage with you.  If you are worried about what to write, for ideas, use google to search topics related to your career field or industry.
This holiday season spend some time getting people to notice you on LinkedIn.  If you want to build your connections, you can always start by connecting with me through my profile.  Send me a message to say Hi and I'll know to look for your post and articles. You can also message me any questions you may have. Now let's go share something so we can be part of the few who do!  Until next time….
Carolyn R. Owens has over 25 years of proven experience and serves as a Career Strategist, Executive and Leadership Coach. She is the President of Infinity Coaching, Inc. where she can help you up-level your skills, so you can up-level your income, career, business or life. Infinity Coaching, Inc. provides one-on-one and group coaching, organizational training, personality assessments, and a signature program, the Infinity Coaching Inner Circle.  Carolyn is certified to give both The Energy Leadership Index Assessment and Myers Briggs Type Indicator Assessment. You can find out more about both assessments and other products and services at https://www.infinitycoaching.net.