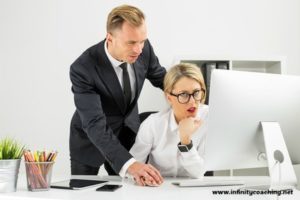 Are you guilty of being a micro-manager? During my military career, I had the privilege of learning and working for a micro-manager; it was exhausting. The reality is that there are more leaders who micro-manage then those who don't. For the most part, their viewpoint is the only way to get something done correctly is to do it yourself, or if someone else is doing it, monitor things really closely.
  Being a micro-manager comes with a price. To sum it up in one word, the price is productivity. When you hold on to tasks, trying to do everything yourself, you don't have time to lead your team. You are way too caught up in the small, minor details. You have to learn to let go and work smarter, not harder. Here are five strategies you can use to become a more effective leader and avoid the micromanagement rut.
1. Provide training. If you are concerned with whether or not someone can perform a task and/or has the knowledge base needed, train them. Training can be provided by someone within the organization (internal) or you can higher a company to provide to training (external). If you choose to bring someone in to do the training, they can either provide in-person or virtual training.
2. Obtain feedback. Conduct a survey, interviews or 360º assessment to solicit feedback from subordinates. You can ask them to describe your actions, your leadership style, and how they feel about the work environment. To encourage honest feedback, consider hiring a coach or a consultant so individuals can keep their answers anonymous.
3. Include the team in the process. When employees feel like they are part of the process they take ownership in the mission/task. Don't just tell them what you want them to do, but ask for their input as well. This leads to increased morale and increased productivity and you will be more inclined to delegate tasks.
4. Establish a regular weekly or monthly meeting. Hold weekly or monthly team meetings where current tasks are discussed. This will help you keep track of what is going on and adhere to timelines/deadlines. During this meeting, discuss expectations. Give examples of what successful completion of a task or projects look like.
5. Learn to delegate.  Learn to entrust others with responsibilities. In order to establish trust and address concerns you may have, start off small giving less important tasks to manage. Overtime they will earn your trust and you will increase the responsibility given to them. You will also avoid burnout while giving others a chance to grow and learn.
  When you learn to let go and not micromanage everyone benefits. There may be times when micromanagement is needed. Typically these situations are rare and only during high intensity, severe risk or crisis situations. I caution you to not view every situation as a crisis and when one does arise explain to the team why increased oversight is needed. Your ultimate goal should be to get the most productivity out of your day as possible. Be smart, let go and everyone benefits! You'll be surprised to see how much more you can get done.
Carolyn R. Owens has over 25 years of proven experience and serves as a Career Strategist, Leadership and Life Coach. She is the Chairwoman and CEO of Infinity Coaching, Inc. where they help you up-level your skills so you can up-level your income. Infinity Coaching, Inc. provides one-on-one and group coaching coaching, organizational training, personality assessments and a signature program, the Infinity Coaching Inner Circle. Find out more at http://www.infinitycoaching.net  
This article first appeared on Carolyn's author website on Readers's Legacy at – https://www.readerslegacy.com/author/carolyn60/ and is shared with the author's permission.