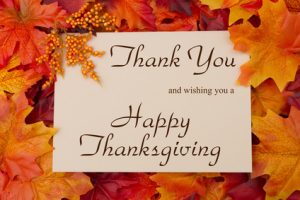 Thank you… 
I don't want the day to end without saying a very special thank you to all who have supported me along my journey.  Although I am saying it now, it is a sentiment that is felt all throughout the year.  For every blog post you have read, commented on, liked and shared, I thank you.
If you have ever read a social media post, watched a video, listened to a podcast, or purchased a product or service – Thank You.  I am truly grateful for your continued support.
What a blessing life is…
I wish you all a very safe, healthy, and warm Thanksgiving Holiday. Be sure to spend time smiling, laughing and remembering all you have to be grateful for.
Happy Thanksgiving from our family to yours… 
Carolyn R. Owens has over 25 years of proven experience and serves as a Career Strategist, Executive and Leadership Coach. She is the President of Infinity Coaching, Inc. where she can help you up-level your skills, so you can up-level your income, career, business or life. Infinity Coaching, Inc. provides one-on-one and group coaching, organizational training, personality assessments, and a signature program, the Infinity Coaching Inner Circle.  Carolyn is certified to give both The Energy Leadership Index Assessment and Myers Briggs Type Indicator Assessment. You can find out more he about both assessments and other products and services at https://www.infinitycoaching.net.