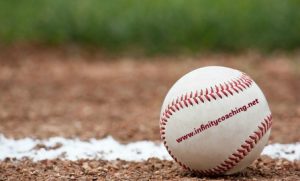 Too many people go through life and never get to experience the things they want to experience.  They just let life go by saying they have dreams and goals but not really doing anything about them.  Have you heard the saying, "A dream without action is just a wish"? Most people are just wishing.  They're afraid to take a chance.  Probably afraid to take a risk. Afraid to live their dream.
Why?  If they do, something will go wrong. It has to.
I want to share with you a story of someone who took the risk to live his dream. He took a big leap and didn't look back.  I hope that it will inspire and motivate you to take a chance on life.
Andy Schindling wanted to play professional baseball since he was five years old.   He would do everything he could to be right in front of the TV when the Baltimore Orioles, his favorite team was playing.  When he fell asleep his visions were full of him wearing orange, white and black, playing professional baseball.
As a young child, he was able to play baseball on local community teams and continued playing all throughout high school. He played well enough but wasn't sure if he could make it to a professional team.  His goal was to show everyone watching he could be the best player on the field; that he knew how to play the game.  He never really paid attention to who exactly was watching. When he got an invitation to camp tryouts, he still wasn't sure if he could do it.
What was happening had not really sunk in.  It seemed like it was all still part of a dream.  I mean come on now. He wasn't really a player who got a lot of attention on the field. When he got drafted, it all started to become real.
He was shocked. 
Nobody in professional baseball knew who he was, except for two members of the Baltimore Orioles organization.  What was most shocking, he was drafted in the 16th round.  He started thinking, I can really do this.  Andy knew he was good enough, but it was not apparent that other people knew he was.  He was ready to take the leap.  To take the chance and begin his baseball journey.
Andy was a few months shy of his 18th birthday when his world changed.  Still very young, fresh out of high school, there were a lot of things he didn't know about life especially when it came to business stuff. He would now have to rely on the old "learn as you go" method.
The next few years would seem surreal for him. How many people truly get to do what they love? To do what they are passionate about?  Not enough.  It was nothing like he expected it to be.  Being able to play a game he loved in front of thousands of people.  It truly was living a dream. But, he will never forget the day he was called into the office.
Six years had gone by and although he had a feeling it was coming, this is something no one can ever truly prepare for. He heard the words, but he really didn't hear them. "Andy. This is the hardest thing I have to do….".
He was released from the team.
The walk to the locker room was much longer that day.  As he was packing up his stuff, his teammates were saying how they were also in disbelief. They didn't see it coming.   Andy had no idea what he was going to do. He really didn't have a life outside of sports.  A dream he had since he was five years old was now shattered.
Many of us experience this same scenario with our businesses, careers, or personal lives.  A spouse may suddenly leave us telling us they want a divorce. We may be fired from what we thought was our dream job.  We may find out we have a medical condition that shakes up our world.  A business partner may we thought we could trust may take off with the year's profits. People around us don't understand what we are going through. We can find ourselves feeling alone, confused or lost.  What can we do?  What did Andy do?
You have to take the pain and find a greater purpose….
In my next article, I'll share with you what happened to Andy.  I'll also share some tips and strategies you can use if you find yourself in a situation where your dream seems to fall apart right in front of you.  Don't give up!  Although things may seem dim, you can and will prevail.
Carolyn R. Owens has over 25 years of proven experience and serves as a Career Strategist, Executive and Leadership Coach. She is the President of Infinity Coaching, Inc. where she can help you up-level your skills, so you can up-level your income, career, business or life. Infinity Coaching, Inc. provides one-on-one and group coaching, organizational training, personality assessments, and a signature program, the Infinity Coaching Inner Circle.  Carolyn is certified to give both The Energy Leadership Index Assessment and Myers Briggs Type Indicator Assessment. You can find out more he about both assessments and other products and services at https://www.infinitycoaching.net.