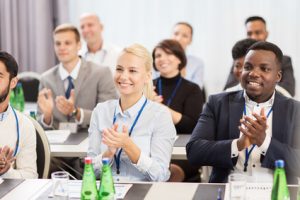 Do you belong to any professional associations?  If not, you should. Being a part of a professional association is a great way to gain visibility in your career field or industry.  However, you shouldn't join just any old association. Find one you can benefit from by growing professionally and personally.  Here are a few things to consider when finding a group that's just right for you.
Identify your why.
When looking at what professional associations to join, you need to understand why you want to join.  Is it to gain additional knowledge or to stay up to date on current trends?  If the association only sends a report out a few times a year it may not fit your needs.  Do they have training events you can participate in?  You may need to have continuing education units to maintain a certification.  Joining an association that offers the CEU's could be extremely helpful for you.  Regardless what your why is, be it knowledge, training, networking, or volunteering, be sure the association will meet your needs.
Do your research.
Before you join, do your homework.  Take time to research the association to make sure they are in alignment with your values and goals.  I once joined an association that had completely opposite views than mine on a few key issues.  I was disappointed in what I saw and did not renew for the second year.   Take time to review the association's history and also read current blog posts.  See what they are posting and promoting on social media.  Take time to read the member benefits, by-laws, etc.  If you know of anyone who is a member or has been a member, ask what they think about the association. Remember, the decision to join is ultimately yours and you are just seeking an honest opinion.
How do they meet?
These days you can find professional associations that meet either online, in person or both.  Consider what would work best for your schedule and how active you want to be.  I belong to both local and virtual associations and have highly benefited from both.
How often do they meet?
Once you find out how they meet, consider how often they meet.  Some associations meet on a weekly basis.  If you miss so many sessions, they will not review your membership.  This occurs even with associations that meet virtually.  For example, there is a business Facebook group that requires members to post a comment at least three times a week.  If you don't, you can be removed from the group.  Before you decide to join, check out how often they meet to see if it fits your schedule.
What are the member expectations?
Understanding exactly what is expected of you as a member can easily be overlooked.  You are so excited to join, you don't take time to read the expectations and requirements.  Not following the requirements can have you removed from the group and you may not get a refund of your association dues.  Fully understand what is required of you by reading the purpose of the association, member benefits, and guidelines, requirements, etc.  Taking the time to read the information provided can save you from a big headache in the end.
Joining professional associations can be very beneficial to your career that is if you choose the right ones to join.  Once you are a member, there a few things you can do to stand out and gain visibility.  I'll share some of those ideas with you in a future post so stay tuned!  If you would like to develop a personal, unique plan to advance your career or business, send me an email at cowens@infinitycoaching.net. I look forward to speaking with you! Until next time remember, it's all about Success on YOUR own terms!
Carolyn R. Owens has over 25 years of proven experience and serves as a Career Strategist, Executive and Leadership Coach. She is the President of Infinity Coaching, Inc. where she can help you up-level your skills, so you can up-level your income, career, business or life. Infinity Coaching, Inc. provides one-on-one and group coaching, organizational training, personality assessments, and a signature program, the Infinity Coaching Inner Circle.  Carolyn is certified to give both The Energy Leadership Index Assessment and Myers Briggs Type Indicator Assessment. You can find out more he about both assessments and other products and services at https://www.infinitycoaching.net.