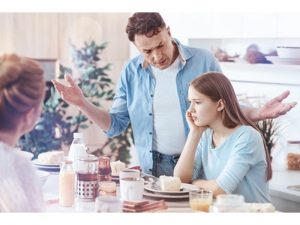 If you are the parent of a teenager, did this happen to you? You really enjoyed spending time with your child. You did lots of fun activities together, going to the park, playing board games, even going to the mall together. Then one day something changed. You can't pinpoint exactly when it happened but it did. You found yourself asking, "What happened to my sweet little angel? Who is this person living in my house? I can't even recognize him/her."
The transition to the teenage years can be, let's just say, an interesting roller coaster ride. You may be wondering how you are going to raise a teenager and keep your sanity.  As parents we want our children to grow up to be successful adults navigating the world with confidence. Even the best parents know raising a teenager is NOT easy. Sometimes we need a little help.
Recently on my radio show, Let's Coach, I had the honor of interviewing #1 Amazon Best Selling Author and marriage and family therapist, Christine Alisa. Christine has over 25 years of experience and has also survived the teenage years raising a now very successful daughter.
Christine describes the teenage years as a time when our children experience changes from hormonal to psychological and even emotional changes. It's a time when they start to figure out and find out who they are. It is a natural stage all children will go through. During this transition time, it can be hard to figure them out with their unpredictable mood swings. It can be a difficult time for both the parent and the child. It can definitely be a challenge but it's also a wonderful experience.
To assist parents during this time, Christine created a complimentary video series, How to create a Better Relationship with your Teen ― and the 3 mistakes that keep parents frustrated, worried and confused. The program was created from her Amazon Best Seller, Your Amazing Itty Bitty® Communicating With Your Teenager Book. The program picks up where the book leaves off and is broken down into four parts:
1) Learn Proven Solutions for Lasting Change with Your Teen
2) Turning Anger Into Positive Interactions
3) Setting Limits Set You Free and
4) How to Keep Your Sanity When Your Child Becomes a Teen.
If you have been having an "interesting" time communicating with your child know that you are not alone. You are not the only parent who is experiencing this and there are things you can do to go through this stage more smoothly. But know if what you have been doing isn't working, it may be time to try something different. Don't hold back from doing so, it can make a major difference in your family dynamics. Take the necessary time to learn tools that will lead to both you and your child having more confidence and more control over the situation.
Carolyn R. Owens has over 25 years of proven experience and serves as a Career Strategist, Executive and Leadership Coach. She is the President of Infinity Coaching, Inc. where she can help you up-level your skills, so you can up-level your income, career, business or life. Infinity Coaching, Inc. provides one-on-one and group coaching, organizational training, personality assessments, and a signature program, the Infinity Coaching Inner Circle.  Carolyn is certified to give both The Energy Leadership Index Assessment and Myers Briggs Type Indicator Assessment. You can find out more he about both assessments and other products and services at https://www.infinitycoaching.net