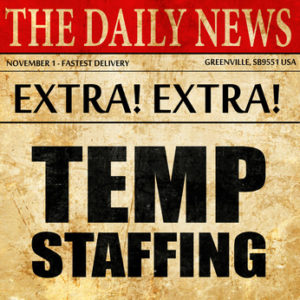 During the holiday season, many companies will hire temporary employees.  Although they are happy with the employment, temporary employees can find it hard to fit in and feel like a member of the team.  It is possible to speed up the process.  Here are a few strategies to help with the adjustment.  
  Attend orientation.  If the company offers an orientation session be sure to attend.  During the session, you will meet other temporary and new permanent staff members who are also learning their way around the organization.  They will have some of the same feelings as you as a new employee.  Also, you will meet key players in the organization who are delivering the orientation material. You will begin to ease the tension you feel becoming more comfortable in the work environment.   
Introduce yourself.  Don't expect everyone to come to you and introduce themselves.  As you move throughout the organization, attend meetings or trainings, introduce yourself.  Your supervisor may also introduce you to others.  Plan ahead and practice a short greeting you can give during the introduction.  Remember this is not a time to tell your story. Keep it brief and plan to engage or continue the conversation later. 
Remember names of those you will be working closely with. Some people just have a special talent for remembering names.  If you have difficulty remembering names, learn and practice a few strategies that can help you.  You can find some in the article, What was his name again?  
Listen.  Don't do all the talking when meeting and interacting with team members.  You want to stay focused and listen to what they are saying.  Don't stop to look at your cell phone or other distractions.  Give them your full attention.  They will appreciate it and will be more likely to listen to you when you need assistance.
Ask questions. As a new employee, you will have many questions.  Don't be afraid to ask.  Asking questions will is another way you will become comfortable in your new environment. But you will also learn more about other staff members and the roles they play. 

Be open to feedback.  As a temporary employee, be a sponge.  Take time to learn from those you are working with.  Be receptive to any feedback you receive.  In doing so, you can enhance your skills and performance becoming a more valuable asset for any organization. It also shows supervisors how you take constructive criticism, be it positive or negative feedback.  Make any changes needed right away and show you are a true, valuable member of the team.
  Remember, while you are in this temporary position your supervisor and peers are watching you.  Give it your all and know it can possibly lead to full-time employment.  If you are not picked up for a permanent position, you will have gained experience you can now include on your resume.
  If you are seeking temporary or part-time employment and would like assistance with your job search or preparing for your interview, send me an email at cowens@infinitycoaching.net. We can work together to find prepare and find a job that's just right for you.
Carolyn R. Owens has over 25 years of proven experience and serves as a Career Strategist, Leadership and Life Coach. She is the Chairwoman and CEO of Infinity Coaching, Inc. where they help you up-level your skills so you can up-level your income. Infinity Coaching, Inc. provides one-on-one and group coaching, organizational training, personality assessments and a signature program, the Infinity Coaching Inner Circle.   Carolyn is certified to give both The Energy Leadership Index Assessment and Myers Briggs Type Indicator Assessment. You can find out more about both assessments and other products and services at http://www.infinitycoaching.net.