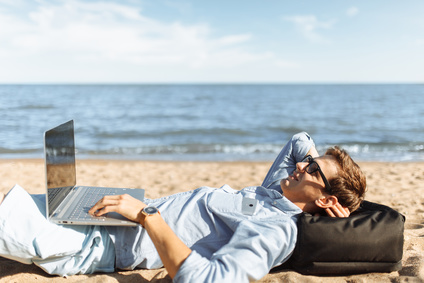 If you work for a company or organization, have you noticed how a large number of people take leave/time off during the summer months? Maybe you noticed how much harder it may be to get through to certain businesses or there are days the office is closed early for various reasons. How about people tending to work at a slower, relaxed pace?
People may spend a little more time socializing or when you get home from work, more time in front of the TV. They aren't really challenging themselves, growing or stretching beyond their comfort zone. One may not be tapping into their creative side at all. Have you ever heard the phrase lose it or lose it? If so you know exactly what I'm talking about.
The summer months are a great time to have some downtime, relax a bit but you have to be careful not to get in such a comfortable place, it's hard to come out of it. If you have children, they are most likely out of school for the summer and this can throw your whole schedule off. It happened to me last summer.
When I looked back over those summer months, I realized I wasn't as productive as I could have been. For me, when I am not as productive, it's easy to miss opportunities that are right in front of me. When it was time for my son to go back to school, we were so off base getting up early once again, setting and working on goals and having a solid action plan.
If summertime is your time to slow down, think about how you really use that time. How can you invest in yourself and/or your family? What special memories can you make? Remember, the kids are going to be kids forever. Don't just check a block saying you went to visit family or on a vacation.  Besides, for many of you, going to visit relatives should not count as a vacation.
If you work in an office, what can you do during this slow time? You could:
Clean off your desk and get organized.

Clean out your email inbox

Cross-train with a different department

Take an online or in-person training course

Create or update your LinkedIn profile

Take a self-assessment

Explore new career options

Dust off and update your resume

Create a blog or vlog

Hire a Coach
Ultimately how you spend this time becomes your choice. Relaxing is a good thing but do something that's going to thrill you even if it's just reading a book. Or, if you prefer, step up your game and hustle harder.  Better yet, find a combination of relaxing and hustling that works best for you. Don't let this be just downtime, step up and find out how you can stand out amongst your peers and competitors.
You do have a choice. You get to create the life you want. Always remember it's about success on YOUR own terms.
If you would like to hear more about this topic, check out the latest episode of Career Reels where we discussed "Summertime: Relax or Hustle".
Carolyn R. Owens has over 25 years of proven experience and serves as a Career Strategist, Executive and Leadership Coach. She is the President of Infinity Coaching, Inc. where she can help you up-level your skills so you can up-level your income, career, business or life. Infinity Coaching, Inc. provides one-on-one and group coaching, organizational training, personality assessments and a signature program, the Infinity Coaching Inner Circle.   Carolyn is certified to give both The Energy Leadership Index Assessment and Myers Briggs Type Indicator Assessment. You can find out more about both assessments and other products and services at http://www.infinitycoaching.net.