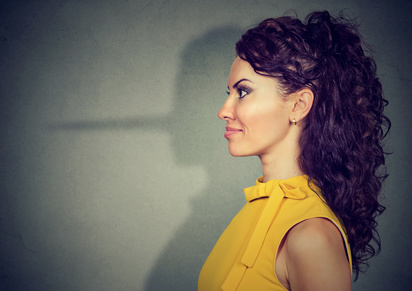 I have to admit. My favorite social media platform is Twitter. I enjoy scrolling through my Twitter feed, sharing and engaging in the Twitterverse. Recently I was scrolling along and came across a post I really liked by Harry Petsanis @rockybalboahp. The post was:
"Everyday people practice the art of deception, self-deception. The reason we often don't change or make progress is because we fail to see ourselves for who we really are. Until we acknowledge our own faults and shortcomings we will never be right for anyone, including ourselves."
When I read this I had to pause for a moment. I am a big component of self-awareness. I teach it, write about it and work with coaching clients in this area.  As a Career Strategist, Leadership and Life Coach, I even offer personality assessments to help raise one's self-awareness. For me this post captured the essence of self-awareness, taking it to it's highest level.
Self-awareness is about being able to look at ourselves in the mirror and face the good and the bad. It's about facing our strengths and weaknesses. It's about accepting what we can't and aren't willing to change. Until we can fully accept and acknowledge who we are and who we really want to be, we will not reach our full potential nor will we live and love authentically.
As we begin to learn who we really are, it will impact all areas of our lives. We stop doing the things that everyone else wants us to do and we start living. The landscape of our life changes.
When we fully embrace ourselves, we understand we get to choose. We have a choice on how we show up every day. We can appreciate ourselves for who we really are. There is no longer a need to seek approval from everyone around else. We realize and understand we are not perfect.
Through this awareness and understanding, we are able to communicate and engage with others in dynamic ways. Why? Because we are coming from a place of authenticity. Raising our self-awareness improves our careers, businesses, relationships and so much more.
I encourage you to spend time getting to really know who you are and appreciating yourself for the unique, wonderful being you are. Let's stop deceiving ourselves and live life out loud. Success on YOUR own terms…
 Carolyn R. Owens has over 25 years of proven experience and serves as a Career and Social Media Strategist, Leadership and Life Coach. She is the Chairwoman and CEO of Infinity Coaching, Inc. where she can help you up-level your skills so you can up-level your income, career, business or life. Infinity Coaching, Inc. provides one-on-one and group coaching, organizational training, personality assessments and a signature program, the Infinity Coaching Inner Circle.   Carolyn is certified to give both The Energy Leadership Index Assessment and Myers Briggs Type Indicator Assessment. You can find out more about both assessments and other products and services at http://www.infinitycoaching.net.