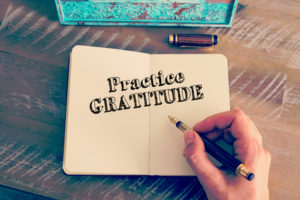 Many people spend the holiday season, from mid-November through the end of December, expressing what they are thankful for. But what if you embraced the concept all year long? What would life be like if you adopted a true practice of Gratitude?
  Everyone has their definition of success and if we are honest with ourselves, we all want more out of life. We really want to be successful but when we discuss it, the idea is met with negative responses leading to feelings of guilt. It is okay to want to have a successful life. The challenge becomes when we are so driven by our own success, we no longer enjoy the journey and hurt those we care about along the way. When we adopt this mindset, we can loose our focus and make the road to success so much more difficult. Establishing a practice of gratitude is a powerful tool that will enable you to stay focused so you can achieve your dreams and goals. As I like to say, success on your own terms.
  So what is gratitude? The most common definition of gratitude is the quality of being thankful; readiness to show appreciation for and to return kindness. The practice of gratitude is such a powerful process, it can transform your career, business, and your life.
  Most of the time we don't stop to think about what we are grateful for. We are trained to notice what is broken and to focus on the negative. The media bombards us with it everyday encouraging us to seek the perfect body, perfect hair, the perfect look, the perfect house, car and family. We desire to have it so much, we are often looking for this perfection that does not exist. We highlight what is missing from our lives often developing a scarcity mentality. Instead of driving us forward to achieve our dreams, we get stuck and tell ourselves stories on why we can't move forward.
  We have to train ourselves to focus more on what we do have and the ability we have to create the life of our dreams. We can be grateful for our health, the job you have, the promotion or bonus you received, being invited to speak at a conference, the clothes you have, recovering from surgery, and so much more. As we begin to embrace the positive and shake of the negative thoughts, you will have increased energy, reduce your stress level and be more focused on achieving your true goals. You will start telling yourself a different story of the success you can have.
  Take a minute today and think about five things you are grateful for. Actually write them down and put it somewhere you can see it. Maybe by your computer, on your bathroom mirror or on a note card you keep in your wallet or purse. Don't put it off saying you will do it tomorrow or the next day – just do it. Once you right them down, think about the time you spend focusing on these things. Does it deserve more of your attention? Do you need to pick up the phone and call someone?
  When you begin to give more and appreciate the things you have now, it will open the door for more opportunities. Are you ready for what's to come? In my next article we will continue the conversation as we talk about Gratitude – Giving and Receiving. So, until next time – here's to your success!
Carolyn R. Owens has over 25 years of proven experience and serves as a Career Strategist, Leadership and Life Coach. She is the Chairwoman and CEO of Infinity Coaching, Inc. where they help you up-level your skills so you can up-level your income. Infinity Coaching, Inc. provides one-on-one and group coaching coaching, organizational training, personality assessments and a signature program, the Infinity Coaching Inner Circle.   Carolyn is certified to give both The Energy Leadership Index Assessment and Myers Briggs Type Indicator Assessment. You can find out more about both assessments and other products and services at http://www.infinitycoaching.net.