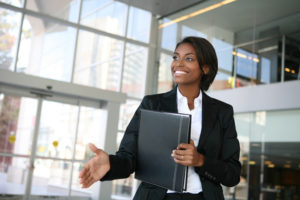 Regardless if you are a solopreneur or a leader in a large corporation, first impressions can make or break a business deal. Although many meetings are now held virtually, some of the most critical business meetings still take place in person. If someone is coming to visit you in the workplace, you must strive to make them feel welcome and make a great first impression. There are several steps you can take to properly prepare for your guest. Here are five suggestions for you to consider. 
1. Give clear, accurate directions. If your guest will be providing their own transportation, give them precise directions to your office. Be sure to ask what mode of transportation they will be using in case you have to provide information for parking, dropping off by a taxi or Uber, or maybe they are close enough to walk. In some areas, public transportation may be the best option. Let them know landmarks or points of reference so they will know they are headed in the right direction. 
2.  Pick them up. If they are flying in or taking the train, offer to pick them up. Offer to do this even if they plan to check into their hotel first. Meeting them at the airport or train station will make them feel comfortable and begin establishing a good rapport early on. 
3.  Inform the team. You want to let team members know when visitors will be arriving. Remind them to keep their area as well as common areas clean and in order. Alert them of any cultural differences they need to be concerned about. You do not want to offend your guests.
4.  Have an agenda. Seek your guest's input and draft an agenda prior to their arrival. Send it to them to review with the understanding it is a draft and things could change due to unexpected circumstances.
5.  Accommodate as needed. Prior to the visit, ask if there are any special accommodation needs. This will allow you time to make any necessary adjustments. For example, do you need to rearrange a conference room to make sure it accessible by a wheelchair? Also, ask about any dietary constraints. If someone has special dietary needs you do not want to offend them by offering foods they can not eat.
  By taking these suggestions into consideration, you can make a great first impression with your guest. But, what happens once they actually arrive at the office? In my next article, I will provide a few tips and strategies they will help to break the ice and have your guest ready to do business with you.
If you would like to learn more strategies to enhance your work environment and leadership skills, please email me at cowens@infinitycoaching.net or visit my website at www.infinitycoaching.net to see how we can work together.