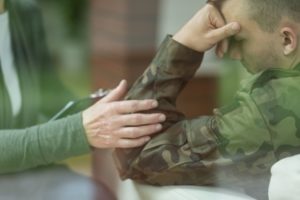 As many of my loyal followers know, I published my first book this year, "Your Itty Bitty Heading Home Book: 15 Simple Steps to a Successful Military Transition".  It is a blessing to be able to share, that the book did become an Amazon number one best seller. I am very thankful to everyone who supported the bestseller campaign and who continue to support me.
My second project is almost complete and includes chapters from very influential entrepreneurs.  Look for me to announce the book release during winter 2017.  With that project coming to fruition, I am honored and excited to tell you about my next project. I hope you will consider being a part of it.  If it doesn't fit you, please share the opportunity with someone you know would be perfect for it. So what's it all about?
Sticking with my love of the military, this book project will take a look at the transition process through, real, heartfelt personal stories. If you are a veteran, do you remember what it was like when you retired or separated from the military? Having to pick out your clothes every day because you no longer had to wake up every morning and put your uniform on. Did you miss the camaraderie of your brother and sisters in arms? There were probably a lot of people around you who could not understand what you experienced serving in the military.  They just didn't get it.
This book compilation is an opportunity for 15 veterans to share their stories, in what WILL be an Amazon Best Seller.  The book will focus on one thing you would like to share with those who will follow you into retirement or separation from the military. It doesn't matter which service you were in.  It doesn't matter if you served four years or 30 years.  You all have something to share.
The book will help those who leave the service, "Be here, once they have been there". If you are interested or know someone who might be interested, please email me at cowens@infinitycoaching.net.  You will receive all the details, timeline, etc.  Once you review the details, we will schedule a time to discuss the project more in depth.  As I know this project won't be a fit for everyone, and it will only include 15 authors. We can review the details and decide together if this project is a fit for you.
If you have ever wanted to write a book, this is a great way to start.  Not only will you work towards having an Amazon bestseller, you will be in the company of other amazing veterans.  You will share your story which can make a difference in another veterans life.  Sometimes we just need to know – we are not alone.
I am excited about the opportunity and I hope you will join me. I look forward to hearing from you soon. Thanks and have an awesome, blessed day/evening!
This article originated from a Facebook posts by Carolyn R Owens, Career Strategist, Leadership and Life Coach, at  https://www.facebook.com/infinitycoaching.co/.  Carolyn is also the coordinator of the Heading Home book project.