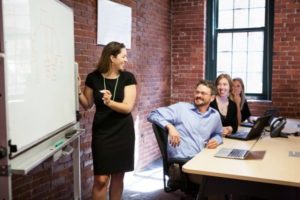 If you travel a lot for your job, at some point you will probably have to travel with co-workers. If you don't properly plan for the trip, it could lead to some very uncomfortable situations. In my last article, On the Road Again – Keeping the Peace When Traveling with Co-Workers, I talked about five things you can do prior to the trip that will reduce some of the tension created when traveling with co-workers. But what happens once you arrive at your location? You picked up the rental car and you're all checked into the hotel but how to you make sure things keep going smoothly? These next few tips provides some ideas to help to continue having a peaceful trip.
Remember work comes first. You have to make business the priority. If time allows, you can socialize or site see later put you must first focus on the purpose of the trip. To avoid any conflict, discuss this with the team so you will all know what the expectations are.
Be on time. Show up to every meeting and event on time. If you are meeting your co-workers for dinner or any other activity do not be the one they are standing around the lobby waiting for. Try to arrive 10 – 15 minutes early and greet them with a smile.
Be courteous to your roommates. You may have to share a room with a co-worker. If they like to go to bad early, keep the noise down so you don't disturb them. Keep the room and especially the bathroom clean and neat – don't just throw your stuff all over the place even if this is what you would normally do if you were at home – you are not at home! Discuss the shower and morning routine ahead of time to avoid any confusion that could potentially cause you to be late. Be respectful and on your best behavior, even if they are not.
Keep expenses reasonable. Know what the company limitations are on meals and other expenses you might occur. Even if some of your colleagues exceed the limitations, you should not.
Remain professional. Above all, project a professional image. Dress conservatively and do not discuss office politics. You never know who is watching and what will get back to your boss and other leaders within the organization.
  Strive to be considerate and professional so you maintain good relationships and advance your career. Set the example and be the leader you are. Following these steps will make for a much more enjoyable trip. In my next article I will discuss action steps for you to consider when you return back to the office. Until next time, here's to your success!
Carolyn R. Owens has over 25 years of proven experience and serves as a Career Strategist, Leadership and Life Coach. She is the Chairwoman and CEO of Infinity Coaching, Inc. where they help you up-level your skills so you can up-level your income. Infinity Coaching, Inc. provides one-on-one and group coaching coaching, organizational training, personality assessments and a signature program, the Infinity Coaching Inner Circle. Find out more at http://www.infinitycoaching.net