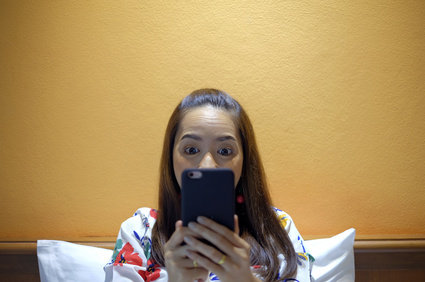 Do you work for a company or organization and feel like you are never off the clock?  You never really get a chance to disconnect. You get text messages from co-workers and your boss all the time. Some even as late as 11:30 PM and you feel obligated to reply. If it's not a text message, maybe it's an email.  
With all of what's out there – social media messaging, email, text messaging, Voxer, etc. it's very easy to stay connected.  Your boss may see you online and think since they're up, I can go ahead and message them now. Why wait until Monday? 
For some, they thrive off this type of lifestyle. The constant interaction actually motivates them, and they perform extremely well in this high paced environment.  Others need time to decompress. They value and need the time to walk away from the job; if just for a moment. They downtime, the time with family and friends is what motivates them. Neither is right or wrong. Both viewpoints should be respected to have a highly functioning team. 
What if there were a law prohibiting this from happening?  During the month of March 2018, Councilman Rafael Espinal, Democrat, Brooklyn, New York, introduced a bill doing just that.  If passed, it would become "unlawful for private employees in the city of New York to require employees to check and respond to email and other electronic communications during non-work hours". Civil penalties would be imposed for any violation of the law and rules of enforcement.  Here are a few key things you should know about the law. 
1. The law applies to companies that have ten or more employees. Typically, when you think of this, many people think of only full-time employees.  This law would include those being compensated on a full-time, part-time or temporary basis.  Your organization or company could have one full-time employee and nine-part time employees, and you would have to adhere to the law. 
2.  The law does not apply to employees of the United States government and the state of New York. Sorry, if you are in Maryland or anywhere in the United States other than New York, it would not apply to you. And, for our military personnel and federal employees, you don't get to disconnect either – Thank you for your service!
3.  If your job requires you to be on call 24 hours a day when you are working, it would not apply to you during those 24 hours. However, when it is your paid time off, and during work-study programs, it would apply.
4.  Organizations who meet the requirement of ten employees or more would have to write a company policy clearly outlining the details. The bill specifically states what needs to be included in the policy. As a prior Director of Human Capital Management, I would add you also make sure all employees are aware of the written policy.  This means informing all employees from the top down.
5.  This point is probably the most obvious one, but I will mention it anyway. There will be NO retaliation or threats of retaliation to any employee if they choose to adhere to the policy disconnecting from work during their off time.  Got it?
In January 2017, France enacted a similar labor law giving their employees the right to disconnect. When the workday ends, they get to ignore those after hour emails. The law was passed to support a healthy work-life balance. One major difference, the law applies to companies with more than 50 employees.
So what do you think?  Would you like to see this bill become a law in your State? 
While you are waiting for a bill to be proposed in your city if you need help disconnecting let 's talk! Together we can develop a strategy that allows you to an achieve the work-life balance desire. Remember, it's all about success on YOUR terms! 
Carolyn R. Owens has over 25 years of proven experience and serves as a Career and Social Media Strategist, Leadership and Life Coach. She is the Chairwoman and CEO of Infinity Coaching, Inc. where she can help you up-level your skills so you can up-level your income, career, business or life. Infinity Coaching, Inc. provides one-on-one and group coaching, organizational training, personality assessments and a signature program, the 

Infinity Coaching Inner Circle

.   Carolyn is certified to give both The Energy Leadership Index Assessment and Myers Briggs Type Indicator Assessment. You can find out more about both assessments and other products and services at 

http://www.infinitycoaching.net

. 
Photo by: etemwanich – Fotolia