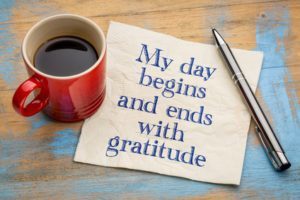 In my last article I shared ideas on how you can start your own practice of gratitude. Many people only focus on gratitude during the holiday season, from mid-November through December. With all the benefits that come from practicing gratitude you should practice it all year long. I wanted to close out this series of posts on gratitude by sharing some additional resources to help you begin your practice of gratitude.
1. A Miracle Morning by Hal Elrod. How you start your day can set the tone for all of your interactions. You should have a morning routine that helps you plan out your day and focus on the goals you want to accomplish. A good book to help you with developing and implementing your routine is "The Miracle Morning" by Hal Elrod. One of the things he talks about is to have a moment of silence to center yourself and "create an optimum state of mind to lead you through the rest of the day". During this moment of silence you can practice and focus on meditation, prayer and/or gratitude. In establishing this practice you will be open to receive the blessings and opportunities that will come your way. You can try this in the morning for a few days, hopefully everyday, and see how it benefits you.
2. The Magic by Rhonda Byrne. Are you familiar with the book The Secret? The Magic is the book that followed The Secret. It provides a 28 day journey that guides you step by step with exercises that teach you how to institute a practice of gratitude. The Magic is gratitude. The first day focuses on counting your blessing and each day builds on the prior day. One day during the journey, you focus on letting negativity out of your life, and how you do this through the practice of gratitude. The challenge with the book is making the commitment for the entire 28 days. In full transparency, me being honest, I have not made it through the full 28 days yet. However, I have seen the benefit from just the first half of the journey. I have also seen the benefit from others that have read this book. It has strengthened marriages, improved professional relationships and assisted individuals from moving forward from past hurts.
3. have a little faith by Mitch Albom – have a little faith is one of my favorite books written by Mitch Albom who is also the author of "Tuesdays with Morrie". While reading this book, you will get an appreciation of life, gratitude and what it means to really live life. Based on a true story, the book focuses on three individuals – Rabbi Albert Lewis, from an affluent neighborhood in New Jersey, Pastor Henry Covington from a poor neighborhood in Detroit and the author himself, Mitch Albom. The story begins with Albert asking Mitch to give his eulogy. Mitch has one condition. He wants to spend time interviewing Albert to truly get to know him. When I first read this book, my father was terminally ill and passed away. Having this book to read served as a source of strength for me as I began to appreciate life, death and the peace that can come with both. Although it mentions faith and belief, both believers and non-believers have read the book and found tremendous value in it.
4. Infinity Coaching Inner Circle. Joining a coaching program where you can share and grow with others is a great way to begin your gratitude practice. The Infinity Coaching Inner Circle is an exclusive group that provides access to expert teaching, coaching and mentoring at an affordable price. In the Inner Circle you discover the power skills you need to have an extraordinary life, amazing career and live life in a whole new way – on your own terms. The participants share in a journey of leadership mastery with one another allowing them to transform their lives, creating a life like never before imagined. We often feel alone in this big world so consider joining a group of like minded individuals that will be there for you to motivate, inspire you support you along the journey.
  We often get stuck thinking about what we don't have in life, comparing ourselves to others, that we don't move forward in life. We are not able to achieve our definition of success. We get stuck because of what we see in the media and there is so much tension and stress in the world today. You wonder how can you bring about change in your community, for yourself. The practice of gratitude is the key to success that can transform your career, business and/or life. It crosses all boundaries – cultural, religious, ethnic and gender. I like to refer to gratitude as one of the power skills needed to achieve success in life. Success according to YOUR definition. When you truly begin to give more and appreciate the things you have now, it will open the door for more opportunities.
To read all the articles in the series on gratitude visit the Infinity Coaching Blog. And until next time, here's to your success!
Carolyn R. Owens has over 25 years of proven experience and serves as a Career Strategist, Leadership and Life Coach. She is the Chairwoman and CEO of Infinity Coaching, Inc. where they help you up-level your skills so you can up-level your income. Infinity Coaching, Inc. provides one-on-one and group coaching coaching, organizational training, personality assessments and a signature program, the Infinity Coaching Inner Circle.   Carolyn is certified to give both The Energy Leadership Index Assessment and Myers Briggs Type Indicator Assessment. You can find out more about both assessments and other products and services at http://www.infinitycoaching.net.