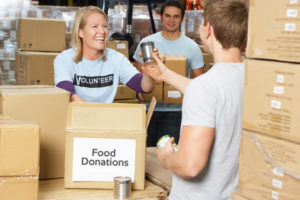 In the United States, the Friday after Thanksgiving has become one of the most popular shopping days of the year.  Over the years, the day has become known as Black Friday. It is said the day was given this name to represent businesses making a profit, operating in the black.
Following Black Friday is Small business Saturday.  Small Business Saturday is the creation of American Express and serves to support small business. Shoppers are encouraged to shop local and support their communities.
As technology advanced over the years, we now have cyber Monday. This day was created as a marketing tactic to encourage individuals to shop online. It works great for those who don't want to go out in the hustle and bustle of Black Friday.
Once you finish shopping on Black Friday, Small Business Saturday, and Cyber Monday, you have giving Tuesday. Started in 2012, it is always the Tuesday after Thanksgiving. The intent is to encourage giving during the holiday season.  If you think, about it, we should start with giving Tuesday because after Black Friday, Small Business Saturday, and Cyber Monday, many people don't have much time or money left to give.
There was a time when people thought more about giving and helping others first.  We took more of a neighborly approach.  Younger members of the community would stop by and check on the older members who didn't get around so well anymore.  If someone needed help fixing something in their home, one would offer a "neighborly" hand.  There was much more sense of a community but we don't see much of that anymore.
With so much going on in our lives, it is often hard to find the time and resources to give. Maybe it's time to slow things down and start helping one another again.
Many people will say, but I don't have any money to give. Money is not the only thing you have to offer.  Give your time instead. Pick an organization, give them a call and ask how you can volunteer your time. Is there a project you can help with? Or, maybe a course you can teach?
Be an advocate.  Help get the word out about the charity. Interview staff members and share their story of why they chose to work for that particular organization.  You will often find that someone they cared about benefited from the charity.  Chris Strub, author of 50 States. 100 Days. The Book., traveled across the country visiting different charities and used social media to spread the word.
Hold a fundraiser.  As you are getting the word out about the charity, people will begin to see the difference that is being made in the lives of others.  You can host a fundraiser that allows individuals to donate money or time.  The money part is pretty cut and dry, but you can also have a sign up sheet where individuals can pledge to work at or for the organization for a certain about or hours.
Spend a little time this holiday season thinking how you can support your favorite charity. Don't plan to do this once a year just to check off a box. Make a conscious effort to make difference and, you will find not only does giving help the receiver, it will also help you. You will begin to appreciate your blessings in life and know it's more rewarding giving to a good cause then you could ever imagine.
Carolyn R. Owens has over 25 years of proven experience and serves as a Career Strategist, Leadership and Life Coach. She is the Chairwoman/CEO of Infinity Coaching, Inc. where they help you up-level your skills so you can up-level your income. Infinity Coaching, Inc. provides one-on-one and group coaching, organizational training, personality assessments and a signature program, the Infinity Coaching Inner Circle. Find out more at http://www.infinitycoaching.net