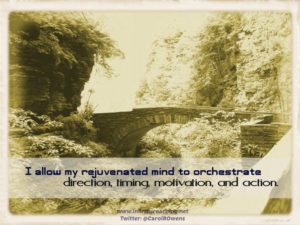 Today's post is just a simple thought for you to reflect on….
  Do you remember to stop and take time for yourself? In such a busy fast paced world you have to make time to slow down, refresh and renew your body AND mind. If you don't you can become overwhelmed, loose focus and eventually burn out. Your attitude and behavior can change and can impact and influence those close to you and those you interact with – and not in a positive way! When you do take the time, you gain clarity, have greater focus, increased productivity and so much more.
The affirmation,"I allow my rejuvenated mind to orchestrate direction, timing, motivation and action",  can serve as a powerful reminder to take the time to refresh and why it is important.  It can be as simple as reading book, listening to some relaxing music or making time for prayer or meditation. When you do, you will see the benefits in your personal and professional life. You will be much more productive, have more energy and enhanced relationships.  If you find yourself struggling to fit it in your day, start with just a five minutes of dedicated relaxation time.
So what's your favorite way to refresh and renew your mind and body?
Carolyn R. Owens has over 25 years of proven experience and serves as a Career Strategist, Leadership and Life Coach. She is the Chairwoman and CEO of Infinity Coaching, Inc. where they help you up-level your skills so you can up-level your income. Infinity Coaching, Inc. provides one-on-one and group coaching coaching, organizational training, personality assessments and a signature program, the Infinity Coaching Inner Circle. Find out more at http://www.infinitycoaching.net