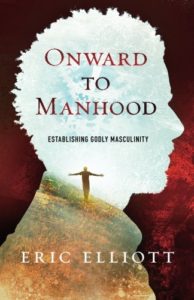 I remember when there was a big push to encourage young women to enter into STEM (Science, Technology Engineering, and Math) career fields as well as other career fields that were once only open to men.  Programs for young women are making a difference.  However, women still earn an average of 79 cents for every dollar a man earns.  With placing so much attention on young girls over the years, we forgot about the young men.  Now, more then ever, young men must begin to learn essential skills to move into manhood.
  As a single parent of a teenage son, this is a concern for me. Looking further into the issue, I was honored to interview guest expert Eric Elliott on my radio show "Let's Coach".  Eric is an impact speaker and author of the book, "Onward to Manhood: Establishing Godly Masculinity".
  Growing up, Eric was exposed to individuals from all walks of life. This included those who excelled in life and those who did not. Through his experience, learned to appreciate all types of people learning from them along his journey. In seeing the challenges young men face today, he wanted to find a way to reach as many young men as possible. He now has a mission to educate them on the necessary steps on the journey to manhood.  Eric working to bridge a gap between the those who excelled and those who have not. As a result of his efforts, he has created a blueprint that serves as a guide for men of all ages.
  As observed by Eric, and I think you will agree, many of us are in the process of designing or developing something. The best builders have a blueprint to make sure they get the measurements right. Blueprints make sure the walls go in the right place, plumbing goes in the right place, etc. Whenever we are building something that is significant, we need a blueprint.  A good blueprint is necessary to building a life of masculinity – Godly masculinity, manhood.  The book "Onward to Manhood: Establishing Godly Masculinity" was written for every man who is looking for a blueprint for a meaningful life.
  In the book Eric shares very personal stories of his experiences as a child and his own transition to manhood.  As he wrote the book, he saw the faces of those that were part of his journey. He saw the faces of people he had gone to school with. Faces of people he played basketball with.  The faces of people who were his nemesis. Faces of people who were very helpful to him along the way. Faces of people he had gone to church with. He even saw faces of people who didn't make it out of their background but ended up in jail.  You can find a part of all of these people represented in the book.
  No matter what a man's background is, or the direction he is heading in, Onward To Manhood will speak to the core of who he is and who he truly wants to be. For those who desire to have a connected life, this book is their blueprint. Eric defines a connected life as a life that means something more then what's going on today, at this particular hour. It is a life that can overflow into days and years for generations to come.  As you read through the book, you will understand how you too can have this life.  This book is a true blueprint for a young man to create a Godly, successful and meaningful life. 
  If you would like to connect with the Eric you can find him on Facebook at  https://www.facebook.com/OnwardToManhood/ or visit his website at http://www.ericjelliott.com.
Note:  This article first appeared on Go Read at – https://www.goread.com/author/carolyn60/ and is shared with the author's permission.