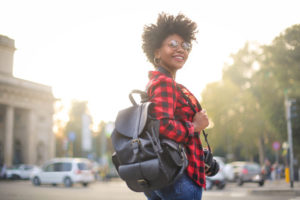 Knowing what I know now if there is one thing I would have done differently, I would have taken a trip around the world prior to starting my career. I would have kept it simple – travel with just a backpack of essentials, a laptop and a sense of adventure.
  As a coach, speaker, trainer and mother, I get to talk to a lot of different people. People of all ages from very diverse backgrounds. One of the common things I learned, especially from those in the United States, is how many have never left their State. Some have never left their neighborhood. 
  If we just look at the United States we can find so many different cultures. The Northeast is very different from the South, West Coast, and Middle America. City life is very different than country life.
  When you meet someone from a different part of the country or world, it can be hard to communicate or understand them. This is because you are only seeing life from what you have experienced. If you have only lived in the city, you don't truly know what it feels like to sleep under the stars in the middle of a meadow. Or to be able to see a mountain view from your window. How about having to get up extra early in the morning to take care of and feed the animals in the barn before you go to school? Would you be willing to walk a half a mile to the bus stop just to go to school? That is if you are lucky enough to stay in school and complete high school.
  Our experiences shape us and help to make us who we are. This includes the environment we grow up in and the places we travel to. It includes the people we hang out with and meet along life's journey.
  These experiences influence our career choices, how we do business, and how we view others. It influences the type of leader we become and how we define success. If we only experience what we see in our neighborhood, we don't get to push past what we know and live life to our full potential. Does this mean we have to pack up and leave our city behind? No, it doesn't. It does mean we can stretch outside of our comfort zone to experience what exists beyond our neighborhood so we can create a stronger community.
  Although I did not do it before I started my career, I did get a chance to travel to all the different areas of the United States and a few trips abroad.  I got to experience many different cultures and live in communities that were very different than the one I grew up in.  I can honestly say these experiences have made a difference in the way I view the world. It has made a difference in how I interact and communicate with people. It has made me a much better coach and trainer. I love being able to share my experiences and knowledge with those I train, coach, and mentor.
  My travel adventures are not over yet. As I reach a new phase in life, I see myself traveling across the country and a few trips out of the country.  This time I'll have my backpack, stopping at various cafes to write and share my experiences.
  So when you are thinking about your goals and how you can have a more successful business or career, one question you can ask yourself is, "Have I spent enough time out of my community to experience and appreciate the culture of others?".  If you haven't I encourage you to make a plan to do so. It may be as simple as hopping in a car with a friend and taking a road trip or saving and budgeting for a trip abroad. Whatever the choice you make, know traveling the world can make you a better leader, business owner, and friend.
 Carolyn R. Owens has over 25 years of proven experience and serves as a Career Strategist, Leadership and Life Coach. She is the Chairwoman and CEO of Infinity Coaching, Inc. where they help you up-level your skills so you can up-level your income. Infinity Coaching, Inc. provides one-on-one and group coaching, organizational training, personality assessments and a signature program, the Infinity Coaching Inner Circle.   Carolyn is certified to give both The Energy Leadership Index Assessment and Myers Briggs Type Indicator Assessment. You can find out more about both assessments and other products and services at http://www.infinitycoaching.net.