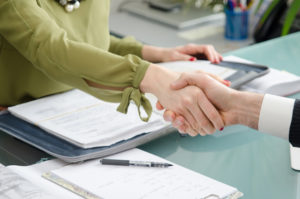 Going through the interview process can be very stressful and overwhelming. You worry about what questions the interviewer(s) will ask, what to wear, what you should take with you, etc. The interviewer will be assessing if you are a fit for the organization. But, the other side to this process, you have to decide if the organization is a fit for you. Before you accept the job offer, here are a few things you should consider…
 1.  Understand the company mission. Does the company mission align with your personal values? For  example, if animal rights is important to you, you would not want to be working at a meat packing plant
2.  Research the position and industry. Check out similar job postings and talk with people in the field. Get to  know what the typical job responsibilities are and where there are opportunities for growth.
3.  Analyze the job description. Look at the responsibilities and skills the employer is seeking in a candidate.  Know what would be expected of you.
4.  Research the turnover rate in the organization. Is this a company were people don't stay long and if so  why.
5.  Consult your predecessor. They may be able to give you additional information on the responsibilities  required of the position.
6.  Ask about your potential supervisors' work style. Does your potential supervisor tend to be the first one  AND last one at work? Are you expected to do the same? Are employees who take initiative appreciated?
7.  Think more broadly. Sometimes we get so focused on salaries and job security that we may pay less attention to other important factors. Studies show that skill variety and task identity are powerful predictors of job satisfaction. Consider how the position will let you use your full skill set and allow room for growth and development.
Many people take a job just to take a job but you CAN find a job that aligns with values and one that you will truly enjoy. By taking a few minutes to consider these tips before you accept the job, you can avoid feeling stuck in a job you really don't want. Ultimately, following these tips, will lead to more overall job satisfaction and more success in your career. Here's to your success!
Carolyn R. Owens is a Career Strategist, Leadership and Life Coach and Chairwoman and CEO of Infinity Coaching, Inc. If you would like additional tips and strategies for career success email Carolyn at cowens@infinitycoaching.net.