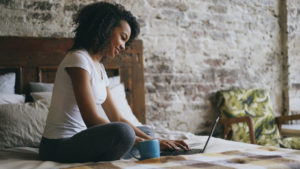 On November 1, 2017, I posted an article on my leadership blog titled Celebrate Blogging. It was all about National Blog Posting Month, what exactly it is and whether or not I would participate this year. I had participated last year but only wrote 29 articles of the 30 I was to write. Although I could have, I never went back to finish. In fact, it would be almost five months before I would write another blog post.
  Once I started writing again, I still didn't write consistently. I was even working with a writing coach but still didn't write consistently. I had a goal to write once a week but I would write one or two articles a month if I wrote one at all. But something was changing.
  I started writing for another blog, in August but was still writing for the Infinity Coaching blog. As I wrote more, my writing improved and I remembered how much I really enjoyed writing. If I really enjoyed it, why didn't I give myself permission to write more? Friends and colleagues would tell me when I spoke about writing, my whole energy and the sound of my voice changed. There was an excitement and passion that even intrigued them. Was there a need to restructure things and create a different life for me? I mean I love coaching and training, but why couldn't I serve as a coach, trainer, and author?
  As a coach, it was time to listen to my own words of wisdom. How and what would I say if this was a client of mine? Create the life YOU truly desire. That's what I would say.
  National Blog Posting Month became a perfect opportunity to test things out and see what I really wanted to do. I once again accepted the challenge – 30 articles in 30 days. But as things had changed with my writing, this year's blogging challenge was different too.
  I am part of the Facebook group Cheer Peppers and last year during the challenge I was not very active in the group. I would post my article for the day and go about my business. This year I decided, I will only get out of the group what I give. By changing the way I viewed myself in the group, I actually felt like I belonged there.
  This article you are reading is my day 30 post. In full transparency, I am posting it a few days late. Most people have finished the challenge and a few of us are bringing up the rear. Although a few days late, we are committed to completing the goal. Unlike last year, I went back and finished all 30 articles.
  Yes, I did it! I am excited, overwhelmed (in a good way), and thankful. Especially thankful for my fellow Cheer Peppers. Finishing this year's challenge did not come without obstacles. My laptop went down not once but twice. Then there are the antics of raising an awesome teenage boy. Oh, and did I mention running a company that I love? But I wouldn't change a thing.
Each step of the way I learned something. Something about myself, my writing and my business. I think this year's challenge will always be special for me as it stretched me and helped me become a better coach, trainer, and author.
  As career professionals and business owners, we have to find that thing that stretches us. The thing that helps us grow, to become a better version of ourselves. It could be writing or creating something. It could be belonging to a Facebook or LinkedIn group. Maybe it's part of a mastermind or Inner Circle. Whatever that is for you, you have to find it. Step outside of your comfort zone and do not settle for mediocrity. Life is too short to not truly live and enjoy it. As for me and my writing, well you are just going to have to keep following along as the story continues…
Defining success by blogging one word at a time. 😉
 Carolyn R. Owens has over 25 years of proven experience and serves as a Career Strategist, Leadership and Life Coach. She is the Chairwoman and CEO of Infinity Coaching, Inc. where they help you up-level your skills so you can up-level your income. Infinity Coaching, Inc. provides one-on-one and group coaching, organizational training, personality assessments and a signature program, the Infinity Coaching Inner Circle.   Carolyn is certified to give both The Energy Leadership Index Assessment and Myers Briggs Type Indicator Assessment. You can find out more about both assessments and other products and services at http://www.infinitycoaching.net.