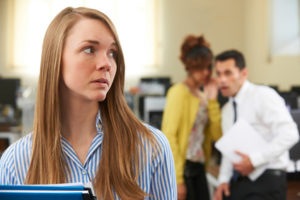 Some people just love to gossip. They can find anything to gossip about even in the workplace. They will gossip about the company, boss, co-workers, customers whatever they can come up with. Often leaders will ignore the gossip not recognizing the negative impact it has on the organization. Gossip impacts morale and productivity. It can create a culture that is unsupportive, full of distrust and really just toxic.
There is one positive side to gossip. It can bring people together to talk about a common issue. Well, that is until you find out you are the latest topic of conversation. If that were to happen, how would you handle it? Here are a few ways you can address the situation before it really gets out of hand.
1. Strive to create a positive culture. Instead of focusing on someone's negative qualities, focus on their strengths. When you are getting coffee or waiting for a meeting to start, share stories of good things people in the office have done. You can mention the things someone has done to help you, how they did really well on a task, or how they completed a task ahead of schedule. By sharing positive comments you will begin to shift the culture reducing the amount of gossip taking place.
2.  Tell your boss. If your organization has a culture that does not tolerate gossip, let your boss know right away. This may take some courage but it can stop the gossip train from going down the tracks.
3.  Confront the person. First assess the situation to see if this would be a good move. Rarely will the person admit to sharing the gossip. You could make the situation worse encouraging them to talk even more about you. Consider if you would like to have a third party present. Think about what you want to say ahead of time to avoid feeling pressured during the conversation. Do not approach the individual in a confrontational manner but one of concern, seeking a mutual respected outcome for both parties.
4.  Flip the script by owning up to it. Start talking about the rumor yourself. Okay, this one may seem a little odd to you but it can quickly dispel the rumor. If it is true own up to it. If it is not use clever conversation to let people know that it never happened. For example if someone is talking about how you gave a terrible presentation, you can say how the presentation didn't go so well. You should have prepared better but I know what to do next time.
5.  Walk away. When you hear someone gossiping, simply walk away. Without someone to listen to it, the rumors can be put the rest. In a tactful way, you can let the person sharing with you know there are ways to handle complaints or address concerns. You can change the subject by sharing positive things about the topic or person the gossip is about. Best of all, do not be the one to keep the gossip party going by passing the information on to someone else.
6.  Stay busy. You go to work to work so work. Keep yourself busy so that you will not have time to engage in the gossip mill. Your day should be filled with tasks that challenge you, and bring you a high level of career satisfaction. When you stay busy with rewarding and gratifying work you are less likely to be distracted.
7.  Leave you private life private. Have you heard the song that say "let's give them something to talk about"? Don't do that! Unless it is someone who you have the utmost trust in, or they are required to keep the information confidential, do not share your personal information with them. A great sign to watch for would be someone sharing someone elses private information with you. If they would share the latest rumors with you, you can almost be sure they will share your information with someone else too.
8.  Have relationships and friendships outside of work. If you spend long hours at work, you tend to neglect your private life. This could result in you depending too much on your work relationships. You can become to comfortable relying on them for not just support on projects at work but emotional support as well. Have close relationships and friendships outside of work that provide that emotional support for you. They can serve as good place to vent when you are having bad days. They can also provide objective opinions when you need one.
9.  Have a Mentor or Hire Coach. Another option would be to have a mentor or hire a coach such as myself that can assist you with the challenges you face in the workplace.
A mentor is a role model who has "been there and done that". A mentor has a similar experience as the mentee and can show them the ropes. They provide advice as situations or questions arise. A coach can assist you with setting goals, creating outcomes and managing personal and professional change. They can assist you with breaking through limiting beliefs or whatever is holding you back. A coach does not have to have the same experience or have worked in same industry.
If you are personally being impacted by gossip in the workplace try these strategies to begin to cultivate a change in your organization. If the gossiping persists, reach out to Human Resources Director to understand what legal action you can take. Everyone deserves to work in an environment free of gossip and you can begin to be the one who makes the difference.
If you are working towards improving the culture of your organization, I am here to help you.  Please email me at cowens@infinitycoaching.net or visit my website at www.infinitycoaching.net to see how we can work together.  I can help you with navigating through the difficult situations that occur in the workplace so you can live an extraordinary life and have an amazing career.