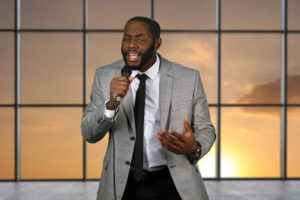 The 2017 Maryland Counseling Association (MCA) Conference was off to a great start. Each year a theme is set for the conference and this years theme was Courageous Conversations: Diversity and Inclusion. Workshops and poster sessions focused on delicate issues counselors often have to discuss with their clients. Latest trends and research studies were discussed along with solutions and strategies. You can read about some of the workshops on my blog. But, after two days of attending incredible workshops, it was time to switch gears.
  Besides the professional development, a secondary reason many of us go to conferences is to network. Unfortunately, it is often time to find time in the schedule to do so. Each night after the MCA conference, the hotel hosted a happy hour session for guests of the hotel and attendees of the conference able to participate. On the second evening, MCA took it a step further by hosting a social and awards ceremony right after happy hour ended.
  So you are probably wondering, why would I take the time to write an article about a social after the conference? Well, this is an example of how to do it right.
  The social started with the President, Karol Taylor, presenting awards to members who made a significant impact on the association during the year. There were also door prizes to win out throughout the night. Two of the prizes were donated by world-renowned Child Advocacy Artist George E Miller. I have to be honest, the idea of winning one of his pieces was definitely a reason for me to stay. But when the karaoke music started, I was in for a surprise.
  Typically you go an event like this and no one will get up and perform and sing. Not tonight! From the moment the music started, until the evening came to a close, someone was singing. People were laughing, singing and simply enjoying themselves.
  With everything we have going on, this is what we often forget, just to let go and have fun. I think these counselors got it. We need to remember, it's okay to laugh, to dance and to lift our voices up in song. In doing so we let go and reduce stress we have been holding on to. We bring more positivity into our lives and that passes onto others we meet.
  If you are planning a conference, try to schedule in time for a social event or plan a networking activity that helps to break the ice. Many of the attendee's don't know each other and this is a way to help attendees feel relaxed and comfortable. Another benefit, the next day you will see more people engaging and discussing what they have learned during the workshops.
  So you are probably wondering, did I sing a song that night? Sorry to say but I didn't. But, singing karaoke is on my living list.  
Carolyn R. Owens has over 25 years of proven experience and serves as a Career Strategist, Leadership and Life Coach. She is the Chairwoman and CEO of Infinity Coaching, Inc. where they help you up-level your skills so you can up-level your income. Infinity Coaching, Inc. provides one-on-one and group coaching, organizational training, personality assessments and a signature program, the Infinity Coaching Inner Circle. Find out more at http://www.infinitycoaching.net