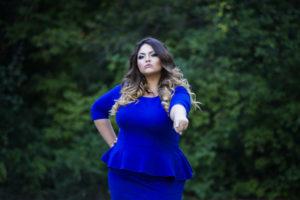 Over the past few articles on the Infinity Coaching Blog, I shared some of the highlights from the Maryland Counseling Association (MCA) conference.  This year the association celebrated its 50th year.  The association expanded its reach by encouraging discussions on the hard issues that no one likes to talk about.
  The theme of the conference was Courageous Conversations: Diversity and Inclusion.  Often when we see titles like this, the first thing that comes to mind are subjects like gender, race, and age.  But what about our body shape? Studies have proven both men and women have been discluded because of this.
  The issue was the focus of an educational session presented at the conference by Lenese Stephens, MA, LCPC-S, NCC, and MAC.  With all of those letters behind her name, she not only has the experience but the education behind her as a certified counselor.  Lenese serves as a Behavioral Health Therapist and is also a Doctoral Student at Argosy University.
  The title of the session was, "Fat Oppression and Liberation".  The goal was to provide insight to the increased liberation and motivation women are beginning to experience by accepting their body frames, images, and types. This acceptance is contrary to scientific studies of the past.   These past studies show and support the correlation between mental health disorders and being overweight and obese combined with cultural standards of beauty.   But has society begun to change its view of women and the standard of beauty?  Can you be a size 10 or size 20 and be more than just a pretty face?
  Once all the attendees of the session were seated, Lenese opened up the discussion by saying, "Hi. My name is Lense Stephens and I am fat".  When you read that statement just now, how did it make you feel? That was the question posed to all of us in the room.  It broke the ice for some very rich discussion.
  We shared our own personal viewpoints of how we react when we hear the word fat.  There is a portion of society that associates being thin with being healthy.  Others know just because you're thin, doesn't mean you're healthy. What some consider obese, isn't even a medical definition of obese.
  Then there is the question of the ability of someone to perform well at work.  Have you ever seen someone walk right by a heavier person and go to the thin person for assistance?  Turns out the heavier person is who they need to see after all.
  What may come as a surprise to some is, this is not an issue that only women face.  The men who attended the session shared their stories of being overweight at various times in their lives.  They shared how it impacted their thoughts and beliefs.  Society tends to accept overweight men and not so much overweight women.  However, men internally face struggles they often do not talk about.  They bottle the emotions up inside and it shows up in different areas in their lives such as how they communicate with others, relationships, confidence levels and more.
   According to an article in Today.com, the average American woman now wears a size 16. Quite the contrary from the photoshop pictures we see in magazines.   These sizes and the average weight of the American woman has increased significantly in the past 50 years.   In a more recent article from Livestrong.com, the American adult female height is approximately 5'4″ and 166.2 pounds.  Broken down further, the non-Hispanic white woman averages about 165.4 pounds and are 5′ 4″.  The average Hispanic woman is 160.2 pounds and stands at 5′ 2″.  For non-Hispanic black women, it is 5'4″ and 187.9 pounds.
  As you can see, there is a difference in the weight of a non-Hispanic black woman versus other cultures in America. One of the questions asked during the workshop was are there cultural acceptances when different races use the word fat?  Most of the attendees agreed there are.
  Recently there have been more campaigns like the one Dove sponsors from various organizations and companies to speak out and recognize beauty comes in all shapes in sizes.  With the help of these campaigns, has society begun to reject socio-cultural viewpoints and attitudes.  The viewpoints that being fat is ugly, unhealthy, lazy, and undesirable. How about you?   How have these campaigns impacted your viewpoint?
  Take a moment and reflect on the questions below to assess your view and belief of "fat people".  You can also discuss them with a group, or better yet, invite Lenese Stephens to lead and facilitate your next workshop or seminar. Here are the questions:
What thoughts or feelings come up for you when you hear the word fat?
How do you define the word fat? Obese?
What thoughts or feelings come up for you when you see an overweight person?
        Look at the picture with this article.  Do you consider her to be fat? 
Are there cultural differences when it comes to the use of the word fat?
  Being fat and fat oppression is not a conversation that many want to have. However, with the true diverse body shapes that exist, it is one that can no longer be avoided. Media images of the past no longer depict what is Truth. You will encounter someone who you may consider to be overweight but don't let your judgment shadow over the ability of the person and who that person truly is. Start having courageous conversations and transform the way you view the world.
Carolyn R. Owens has over 25 years of proven experience and serves as a Career Strategist, Leadership and Life Coach. She is the Chairwoman and CEO of Infinity Coaching, Inc. where they help you up-level your skills so you can up-level your income. Infinity Coaching, Inc. provides one-on-one and group coaching, organizational training, personality assessments and a signature program, the Infinity Coaching Inner Circle. Find out more at http://www.infinitycoaching.net